Events
Winter Organic Cereals
23 November 2017
Diversity in the field - the way forward?
Casterley Barn, Rushall Organics, Pewsey, Wiltshire SN9 6EG
9.30am to 5pm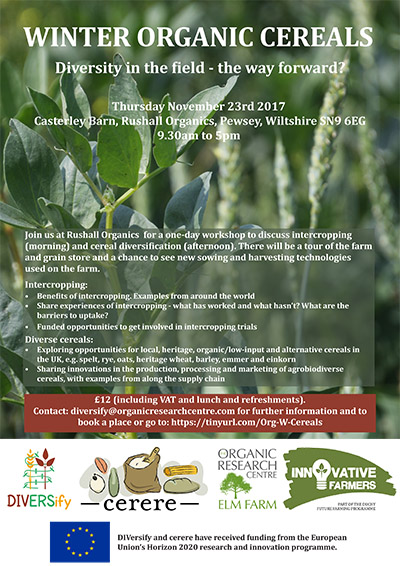 Join us at Rushall Organics for a one-day workshop to discuss intercropping (morning) and cereal diversification (afternoon). There will be a tour of the farm and grain store and a chance to see new sowing and harvesting technologies used on the farm.
Intercropping:
Benefits of intercropping. Examples from around the world
Share experiences of intercropping - what has worked and what hasnít? What are the barriers to uptake?
Funded opportunities to get involved in intercropping trials
Diverse cereals:
Exploring opportunities for local, heritage, organic/low-input and alternative cereals in the UK, e.g. spelt, rye, oats, heritage wheat, barley, emmer and einkorn
Sharing innovations in the production, processing and marketing of agrobiodiverse cereals, with examples from along the supply chain
Full programme coming soon!
Booking
£12 (Inc. VAT) to cover the costs of lunch, tea and coffee. Please book by 9th November 2017. To book, please click here or contact diversify@organicresearchcentre.com
To event list