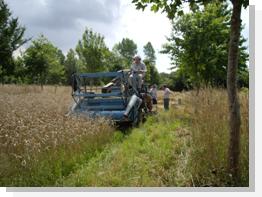 Tree-crop interactions in silvoarable agroforestry
Contract period:
1 August 2009 to 1 October 2009
Main funder:
Ashden Trust
Contact staff at ORC:
Jo Smith
Project aims
Interactions between the tree and crop/livestock components can be positive, negative or neutral. Positive interactions can lead to an increased capture of a limiting resource, resulting in greater total production than if the two components had been grown separately. Conversely, negative interactions occur when the two components overlap in their resource use, and can result in lower productivity than if the components are grown separately. In 2009 we carried out a study to investigate the interactions between tree and crop components in the mixed hardwood and fruit tree silvoarable system at Wakelyns, in Suffolk, England. It tested the hypothesis that species-specific interactions between the trees and cereal crop in a mixed hardwood and fruit tree agroforestry system result in local variations in cereal yield.