Agroforestry farms in the UK
Wakelyns Agroforestry
Prof. Martin Wolfe established an organic silvoarable system in 1994 on a 22.5ha site in eastern England.
The farm has four agroforestry silvoarable systems; hazel coppice, willow coppice, a fruit and nut tree system and a mixed hardwood and fruit tree system. The trees are planted in rows or as production hedges running north/south with organic crops grown in rotation within the 10-12m wide alleys.
Wakelyns produces a wide range of products, including bioenergy from the willow and hazel coppice, timber, fruit, vegetables, cereals, nuts, cider and craft materials. The agroforestry system also supports a number of important ecosystem services such as maintaining soil fertility and health, biodiversity enhancement, modification of the microenvironment, pest and disease regulation and carbon storage.
The image shows cereal growing in the alleys between hazel coppice production hedges at Wakelyns.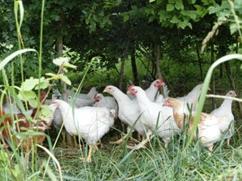 Sheepdrove Organic Farm
Sheepdrove farm is a silvopoultry system which is integrated into the farm's organic rotation.
Planted in 2002, five avenues of trees, hedges and shrubs, with 40m between avenues, provide a stimulating environment for broiler chickens as well as a valuable habitat for farmland wildlife and opportunities for community involvement in hedgerow foraging for fruits and nuts. The crop alleys are integrated within the farm's rotation with cereals, whole crops and leys benefitting from nutrient released from chicken manure whilst helping to reduce nutrients leaching from the system.
The image shows chickens foraging under the tree and shrub hedgerow at Sheepdrove.
Whitehall Farm
Organic arable farmers and advisors, Stephen and Lynn Briggs, have recently established a silvoarable system on 125 acres of fenland soils, just outside Peterborough.
The system consists of widely spaced rows of apple trees and 24m-wide alleys of combinable crops. The 4500 apple trees were planted in October 2009; the 13 varieties (9 commercial and 4 traditional) were selected to produce apples for juicing and eating. In the 3m-wide strips under the trees, Stephen has sown a nectar-rich seed mixture to encourage the pollinators that are so important for successful fruit harvests. Late maturing tree varieties have been chosen to allow harvesting of the alley crops first and pruning of overhanging branches will develop the trees into a hedge-like structure that will make it easier to cultivate within the alleys without damaging the trees.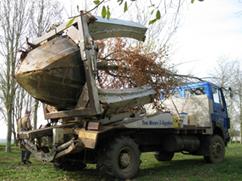 Little Hidden Farm
Bill & Sue Acworth established two areas of agro-forestry planted 1993 (5ha) and 1994 (3.5ha).
The plot consists of, for management purposes, the principal trees Ash, Black Walnut, Cherry, Oak, Sycamore, and secondary trees, Hornbeam, London Plane, Grey Alder, and Norway Maple. When first established the site was managed as a silvoarable system and intercropped with combined crops of small grain cereals and pulses. When the trees were better established management changed to silvopastoral with sheep grazing the pasture in the alleys. The trees have been sold so far for amenity purposes to private land owners and to local councils.
The agroforestry plot is only part of Little Hidden Farm. In total Little Hidden Farm is a 150 acres site devoted to rearing both sheep and beef cattle, growing arable crops for seed for other organic farmers and supporting a busy riding school. The farm also consists of a small mixed deciduous woodland and a small hazel coppice woodland.
The image shows a birch tree being removed from the agroforestry plot at Little Hidden Farm, to be replanted as an amenity tree in a buyer's home garden.