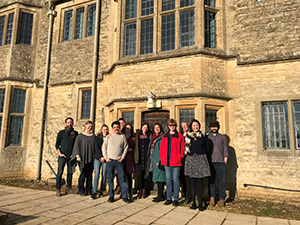 ORC staff at Trent Lodge, Jan 2020
Working with us
Paid employment
Principal Researcher - Agroforestry (G8)
REF: RES2002
Salary range: £30,009 - £55,798 per annum
The Organic Research Centre is the UK's leading independent research centre focusing on the development and promotion of sustainable, agroecological solutions to food, farming and environmental issues, including organic farming and agroforestry. ORC is a registered charity with ca. 25 staff and funded primarily by project grants and contracts, from government, EU and foundation sources, as well as voluntary donations.
We are looking to appoint a Principal Researcher - Agroforestry (G8); the principal duties include managing the agroforestry research programme and individual projects (including financial monitoring), carrying out research and contributing to the programme and projects specifically, but not exclusively, in the field of agroforestry research. Lead ORC participation in national and international bids, support other staff in leading project bids and work in conjunction with the KE manager to organise and undertake knowledge transfer.
Candidates must be qualified to at least PhD or equivalent experience in agroforestry/ agricultural sciences. You should have a track record of project acquisition, scientific and conference publications and experience of working within international research consortia. Experience of project and programme management and administration is essential as well as experience of project resource and financial management. Proven communication and interpersonal skills are essential as is the ability to work with a range of both internal and external partners. Experience of staff management would also be desirable.
Applications must be on an ORC application form. Further details can be downloaded below.
The closing date for applications is 10am Monday 27th July. Interviews will be via Microsoft Teams on Wednesday 5th August.
Download the application pack here or download individual components below
Charity trustees
If you would be interested in being a Trustee of the Charity, please get in contact with the Director, Lucy MacLennan.
Internships
Our internship programme is closed until further notice
If you are looking for practical work opportunities on organic farms, we regret that we are not able to assist. Here are a few links worth trying:
Willing Workers On Organic Farms is a membership charity, teaching people about organic growing and low-impact lifestyles through hands-on experience in the UK;
The Soil Association runs the Future Growers scheme providing traineeships and apprenticeships. They also maintain a list of external job vacancies and opportunities available on organic holdings and at likeminded organisations across the UK;
Environment Jobs lists jobs and volunteering opportunities in this area.
Postgraduate research
Opportunities may exist for MSc and PhD research projects linked to our current research areas. Contact the relevant team leader for further information.
Participatory research
Much of our research involves participatory engagement of producers and other businesses - we currently have over 50 businesses working with us and have now established a Participatory Research Network to develop this work. If you are a producer, processor or other business interested in getting involved with research, please contact the Senior Programme Manager.
Partner organisations
ORC works collaboratively on projects and in its dissemination of results with a number of UK and European partners.
Europe-wide, ORC was a founding member of The European Consortium for Organic Plant Breeding (ECO-PB) – for more information see their website www.ecopb.org.
We are members of FQH – the International Research Association for Organic Food Quality and Health. www.organicfqhresearch.org.
ORC is also a partner in Organic Centre Wales.
ORC works closely with IOTA, who have undertaken collation and analysis of organic research. Reports with practical recommendations for use by advisers and others is available on www.organicadvice.org.uk/res_reviews_public.htm.
Organic e-prints provides a fully searchable archive for all organic research. To upload results and search projects Europe wide go to www.orgprints.org.