Join our Farmer and Business Supporters network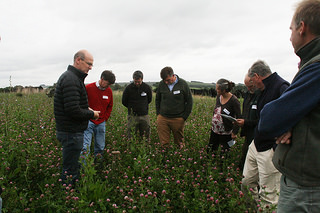 The Organic Research Centre is at the forefront of UK research on organic and agroecological approaches to sustainable and healthy food production, including knowledge exchange and policy advocacy on behalf of organic farmers and businesses. Read our leaflet on What we do, why we do it and what we've achieved (609kb pdf file)
We rely on regular donations from individuals to support our work.
To join our Farmer and Business Supporters (FABS) network, please pledge a regular annual donation (or monthly equivalent) of at least:
£100 (Supporter), £250 (Bronze), £500 (Silver), £1000 (Gold), £5000 (Platinum)
We're keen to recognise the different levels of support, but all supporters will receive the same benefits3. To pay please use the donate button on the Support us page, this can be set up as a standing order via paypal or a credit card. Alternatively, you can email our Supporters Team at supporters@organicresearchcentre.com
FABS members have:
The opportunity to attend the FABS annual event to hear about current activities and discuss your priorities for research, information and policy initiatives1
Opportunities to participate in bids and funded projects;
Networking opportunities and events; including the OF&G National Organic Combinable Crops event which features many ORC projects;
Pre-publication access to research reports, technical guides, bulletin articles, conference papers and other publications, with an invitation to feedback comments where appropriate;
Access to the research team and a quarterly update on progress and staff news, with links to on-line resources, for each of the main areas of ORC activity2;
Discounted access to ORC conferences and events, including our annual conference;
Free subscriptions to ORCís printed bulletin, monthly e-bulletins and the Organic Farm Management Handbook
"As ORC has developed in recent years, the research it is doing has become more and more relevant to questions we are asking about our soils and what kind of leys we should be growing to improve production and build up organic matter. I am very happy to support you."
Jeremy Burdett, Birchpiece Farm (dairy farmer)
ORC has been a great source of strength, inspiration and knowledge for over 30 years. It is the backbone of an organic farming future.
Ed Goff, Hindford Grange (dairy farmer)
ORC has played a major role in securing fairer organic support payments from Defra, recognising both the costs of organic management and the environmental benefits. John Pawsey, Shimpling Park Farm (arable farmer)
1While ORC would not be able to guarantee to undertake such work, the priorities identified would feature in attempts to secure funding, as well as in the research consultations and priority setting initiatives that ORC takes part in.
22 Plant breeding; soils and cropping systems;, livestock systems; agroforestry; environment, sustainability and health; business and markets; policy development; knowledge exchange and communication.
3For VAT purposes, £35 of the annual contribution is zero rated (publications), £25 is standard rated (events) and the remainder is a donation outside the scope of VAT. ORCís VAT registration number is GB314 6681 59