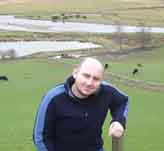 Dr. Konstantinos Zaralis
Job title
Principal Livestock Researcher
Contact details
Email prefix: kostas.z (add suffix @organicresearchcentre.com)
Phone: +44 (0)1488 658298 - extn. 512
Fax: +44 (0)1488 658 50
Postal address: Elm Farm, Hamstead Marshall, Newbury, Berkshire, RG20 0HR
Academic qualifications
Ph.D: Interactive effects between genotype, nutrition and immune status on the parasite-induced anorexia of sheep, University of Edinburgh.
M.Sc in Animal Production and Nutrition, University of Aberdeen. Thesis: "Effects of plant secondary metabolites on the ability of sheep to respond in gastrointestinal nematode infections"
B.Sc in Animal Production, Technological Educational Institute of Thessaloniki.
Main roles and responsibilities
Konstantinos is a senior researcher in animal production with expertise in the area of ruminant nutrition including intake regulation, feeding behaviour and diet selection, animal husbandry, welfare and sustainable approaches to control disease in farm animals in conventional, low-input or organic livestock systems. Along with his research activities he leads or participates in project concepts and funding bits of internationally competitive research and participates in research discussion groups and consortia.
Current Projects
Managing the iSAGE project on Innovation for Sustainable Sheep and Goat Production in Europe and leading ORC's contribution – (Funded by H2020)
Co-investigator in the Optimal Grazing Strategy for Dairy Cows (OptGraze) project – (Funded by The Norwegian Research Council)
Contributing to Agroforestry programme (AGFORWARD) and other agroecological research – (Funded by FP7)
Contributing to Innovative Farmers programme – (Funded by The Prince of Wales's Charitable Foundation)
Leading livestock related research
Completed Projects
Leading ORC's contribution in the Sustainable Organic and Low Input Dairying (SOLID) project and several tasks – (Funded by FP7)
Working within the Improved contribution of local feed to support 100% organic feed supply to pigs and poultry (ICOPP). – Funded by CORE Organic 2.
Contributing to Duchy Originals Future Farming Programme (DOFF) – (Funded by The Prince of Wales's Charitable Foundation)
Research interests
Interactions between genotype and nutrition on host ability to cope with disease
Food intake regulation, feeding behaviour and diet selection in animal species
Nutritional and environmental factors that affect animal welfare and productivity
Sustainable approaches to control disease in farm animals
Modelling nutrient efficiency of different breeds of livestock
External activities
Member of;
The Nutrition Society (NS)
British Society of Animal Science (BSAS)
Nordic Association of Agricultural Scientists (NJF)
The Hellenic Society of Animal Production (HSAP)
Member of the COST action FA0805 (2009 – 2012)
Selected publications
Padel, S., Mette, V., and Zaralis, K., (2015) Supporting Innovation in Organic Agriculture: A European Perspective Using Experience from the SOLID Project. Sustainable Agriculture Research, 4 (3), pp. 32-41.
Clements, R.C., Higham, L.E., Smith, J., Gerrard, C.L., Colley, M.C., Zaralis, K., Nelder, R., Pearce, B., Rayner, A. and Bright, A. (2015) Exploring the Feasibility of Using Silage-Based Feed with Alternative Sources of Protein in Organic Pig Rations. Organic Farming, Vol 1, Issue 1, Pages 50–56, DOI: 10.12924/of2015.01010050
Zaralis, K., Nørgaard, P., Helander, C., Murphy, M., Weisbjerg, M.R., Nadeau, E. (2014) Effects of maize maturity at harvest and proportion of maize silage in diets on intake and performance of growing/finishing bulls. Livestock Science (volume and pages are pending)
Zaralis, K., Tolkamp, B.J., Houdijk, J.G.M., Wylie, A.R.G., Kyriazakis, I. (2009) Consequences of protein supplementation for anorexia, expression of immunity and plasma leptin concentrations in parasitized ewes of two breeds. British Journal of Nutrition, 101, 499 – 509
Zaralis, K., Tolkamp, B.J., Houdijk, J.G.M., Wylie, A.R.G., Kyriazakis, I. (2008) Changes in food intake and circulating leptin due to gastrointestinal parasitism in lambs of two breeds. Journal of Animal Science, 86, 1891–1903
Tsega, W., Tamir, B., Abebe, G., Zaralis, K. (2014) Characteristics of Urban and Peri-Urban Sheep Production Systems and Economic Contribution in Highlands of Ethiopia. Iranian Journal of Applied Animal Science, (volume and pages are pending)
Nadeau, E., Svensson, E., Zaralis, K., Helander, C., Pauly, T., Arnesson, A., (2011) Effects of additive on aerobic stability and nutritive value of maize silage stored during different time periods when harvested at advancing maturity stages. Advances in Animal Biosciences, Cambridge University Press. Proceedings of the 8th International Symposium on the Nutrition of Herbivores (ISNH8), Vol 2, part 2, p 393
Tolkamp, B., Wall, E., Roehe, R., Newbold, J., Zaralis., K. (2010) Review of nutrient efficiency in different breeds of farm livestock, Department for Environment, Food and Rural Affairs, UK (Project Number IF0183)