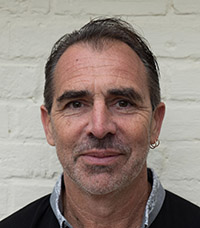 Dr. Kevin Waldie
Job title
Agroforestry Research Communicator
Contact details
Email prefix: kevin.w (add suffix @organicresearchcentre.com)
Phone: +44 (0)1488 658298 - extn. 567
Postal address: Elm Farm, Hamstead Marshall, Newbury, Berkshire, RG20 0HR
Academic qualifications
BA Social Anthropology, University of Kent
MA (econ) Social Anthropology, University of Manchester
PhD Social Anthropology, University of Manchester
MA, Documentary Practice, University of Brunel
Main roles and responsibilities
To work within the agroforestry programme to collate and prepare information for publication to inform a wide range of target audiences, including producers, food businesses, advisers, researchers and policy-makers.
To manage agroforestry social media accounts, and help organise events through which research findings can be disseminated to key stakeholders.
Assist with data collection and research within the agroforestry projects.
Research interests
Social factors affecting the adoption of organic agricultural practices, and consumption of organic products
Potential to mainstream organic farming practices in Africa and Asia to promote resilience and sustainability.
Organic urban agriculture
Engagement of youth in organic farming
External activities
Selected publications
Graves AR, Matthews RB, Waldie K (2003) Low external input technologies for livelihood improvement in subsistence agriculture. Advances in Agronomy 82: 474-555.
Waldie K (2004) Youth and Rural Livelihoods LEISA: Magazine on Low External Input and Sustainable Agriculture, 20:2: 6-8, June