UK Organic Congress 2018
Going for Growth – Transforming organic food and farming in the UK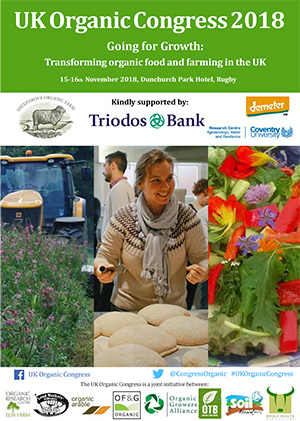 The UK Organic Congress 2018, held 15-16 November at Dunchurch Park Hotel, was a unique event organised jointly by leading organic organisations, including the Organic Research Centre, Landworkers' Alliance, Organic Arable, Organic Farmers & Growers, Organic Growers Alliance, Organic Trade Board, Soil Association and Whole Health Agriculture.
The UK organic food market is growing fast, at 6-7% annually, as part of a global movement for change in what we eat and how it's produced. But we trail our European neighbours, many achieving over 20% growth and food industry responsive to consumer demand, delivering environmental as well as economic gains.
Reaffirming the potential of organic food and farming in the UK needs fresh approaches to ensure core organic principles and the expectations of citizens can be delivered. Enhancing the environmental and other public benefits of organic production while ensuring fair incomes for farmers and affordable prices for consumers is critical. As we contemplate leaving the EU, what transformations should we be seeking to make the UK an organic world leader again?
The organic approach cares about things that affect us all – health, welfare, the environment, fairness, quality and sustainability. Communicating this needs a focus on real benefits, while building bridges with others. The Congress featured a new, positive vision for the contribution that organic can make to UK food and farming, including an aspiration to be up there with the best in terms of production and market shares.
Download full programme including abstracts and speaker biographies