Farming for food quality (OF&G)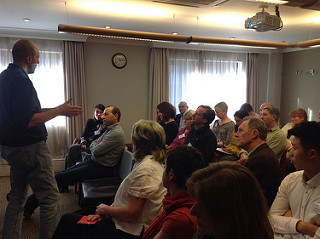 Carlo Leifert speaking in food quality workshop
Chair:Steven Jacobs (OF&G)
The aim of this workshop is to look at farming systems with a view to the finished product on the retailer's shelf, and to discuss the importance or otherwise of the impact of farming systems on the food we eat now and in the future.
Session summary
The first presentation showed how much the foundation for good product quality is laid at the farm, especially if the processing does everything to ensure that vital qualities are maintained. Geoff Bowles explained that he was forced to rethink the way he farmed because of a new bypass that split the farm and he decided to develop into a new direction, reducing herd size, moving to once-a-day milking and direct-selling. Now the farm focuses on bespoke products (for which pricing is less important) and on telling the production story to customers using various media including a blog. The farm also illustrated the wider dimensions of quality in terms of providing employment in the local community and aiming to reduce its environmental impact (e.g. carbon foot printing).
The two subsequent presentations illustrated that there is growing evidence that there are composition differences between organic and non-organic food and that this is also now more widely accepted. A new meta-analysis from Newcastle University on milk and meat products will be published shortly. The FIBL dossier Sustainability and quality of organic food is available from ORC. There are also now four cohort studies that have looked at links between organic food consumption and specific health effects, but as yet no dietary studies have been funded. The discussion touched on a number of issues where organic farming finds itself confronted with questions about quality, such as iodine levels in organic milk and the context of nutrition in daily life. It illustrated that often the story is a bit more complex than the media reporting might suggest and scientists can have different views on the same subject.
Key conclusions
The discussion that followed the presentations brought out the following points:
Viable economics should go hand-in-hand with sustainable food production
Need for an understanding of wider context as well as significant details
Much research on benefits of organic food nutrition but much more needs to be done, requires funding
Individual speaker presentations and abstracts
Geoff Bowles (Ivy House Farm): Soil, grass, cow and milk – a producer's view of health (no powerpoint presentation)
Geoff Bowles will present a personal view of his experiences , farming, processing and marketing their organic dairy products.
Carlo Leifert (NEFG): Effects of organic farming practices on food composition and human health (1.7mb pdf file)
Recent meta-analyses of published data on the nutritional composition of organic and conventional crops and livestock products have identified substantial and nutritionally relevant differences between organic and conventional crops and livestock products. Organic crops had higher concentrations of a wide range of antioxidants, 50% lower concentrations of the toxic metal cadmium and pesticide residues more than 4 times more frequently found in conventional compared to organic crops. Organic milk and beef were shown to have higher concentrations of omega-3 fatty acids, and organic milk also contained higher levels of conjugated linoleic acid (CLA) and certain antioxidants/ vitamin (e.g. carotenoids, vitamin E) . The 4 human cohort studies. in which associations between organic food consumption and human health parameters were studied, all focused on the health of mothers and newly-born children or infants. They reported that organic vegetable and/or dairy consumption is associated with a reduced incidence in male genital deformation at birth, eczema in infants and/or pre-eclampsia in mothers. The paper will review the currently available evidence for composition differences and potential health benefits of organic food consumption and the current understanding of the mechanisms responsible.
Bennan Tong (FiBL): Is organic better? (1.5mb pdf file)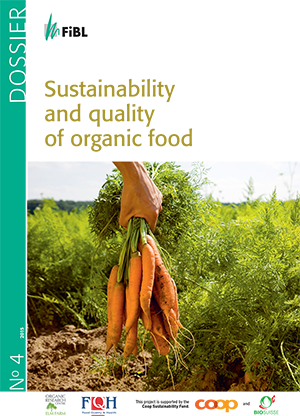 The production of organic food is, in many ways, fundamentally different from the production of conventional food. With its principles, the organic movement is trying to satisfy all aspects of sustainability. This suggests that we should look for a sustainable diet based on regional, seasonal, eco-friendly and socially-sound food (in terms of production, processing and trading); our wellbeing is affected not only by our eating habits, but also by the way our food is produced. In nutrition and health research, the evaluation of food is often based on the content levels of selected, positively-rated substances. Is organic food distinguished by higher levels of these substances? At least for some of these positively-rated substances, organic food seems to show higher levels than conventional food. The evaluation of well over 300 comparative studies (Baransky et al. 2014) revealed an increase of up to 69 % in the content of certain antioxidants like polyphenols in organic crops. Antioxidants could have a positive impact on health. Organic products need to be authentic and processed with care. Therefore only essential additives and processing aids are allowed and the number and extent of the interventions are reduced to a practical minimum.