Catering options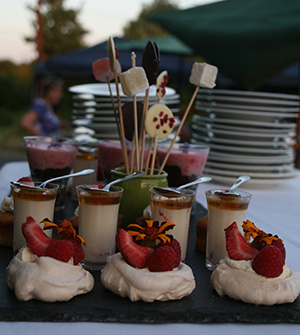 The hall offers flexible meeting areas and an integral kitchen, which will allow for catering and self-catering during events.
Catering can be arranged to meet all budgets from cold buffets to a full three course cooked meal using seasonal organic produce.
Vegetarian options are included and a vegan option can be discussed.
Our ethical food policy
The philosophy of the Organic Research Centre is to develop and support sustainable land-use, agriculture and food systems, primarily within local economies, which build on organic principles to ensure the health and wellbeing of soil, plant, animal, man and the environment – and to this end, we operate an ethical food policy in our conference centre.
All tea, coffee, milk, sugar and fruit juice supplied by us is organic and where appropriate Fairtrade certified to ensure that farmers get a fair price for their produce.
We have asked our caterers to work to the following guidelines for sourcing ingredients:
Any dairy products used should be organic.
When using fruit, only fresh seasonal organic fruit - preferably locally grown should be used. If imported organic fruit is used, then it should be Fairtrade certified if at all possible.
Where meat is used this should be British and organically-reared and preferably locally produced from our recommended suppliers.
Where bread is used it should be organic and mainly wholemeal, not white.
All vegetables should be organically produced and preferably locally grown.
We try to keep all packaging to a minimum and to use biodegradable/compostable or recycled material wherever possible at all times.
Our recommended caterers: